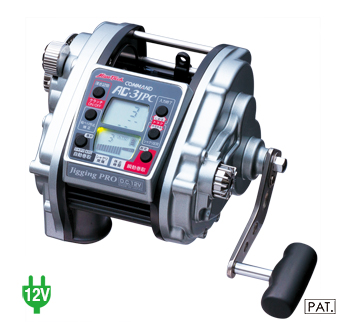 Premium titanium painted, the strongest artisan who can produce various attractions.
Three functions to produce various attractions.
○Super slow winding up
○Automatic shakuri (sink-and-draw motion)
○Chum winding up
Automatic clutch system that can turn on/off clutch with one switch operation. Multi plate type drag system which can finely adjust the drag. Input method for easy and simple thread winding-up. The premium titanium painting that gives full of sense of quality. Large capacity spool adopted for LT deep sea fishing.



Part number
AC-3JPC
Power supply
DC-12V
JAN (Japan Article Number) code (last 5 digits)
02579
Line winding volume
(No.-m)
NEW Deep sensor
PE LINE #4-900m
PE LINE #5-800m
PE LINE #6-700m
PE LINE #8-550m
PE LINE #10-450m
PE LINE #12-350m
Drag tolerance
20.0kg-40.0kg
Instant maximum hoisting force
55kg
Maximum hoisting speed/when without load
150M/min.
Ball bearing
10 pieces
Reel self-weight
2.1kg
Electronic control
Hoisting force control
Depth memory
Automatic shakuri (sink-and-draw motion)
Chum winding up
Manufacturer's list price of the body
Contact us for pricing
* The price indicates the manufacturer's list price only but does not include consumption tax.
* This specification may be changed for improvement without notice.