COMMAND AC-3JP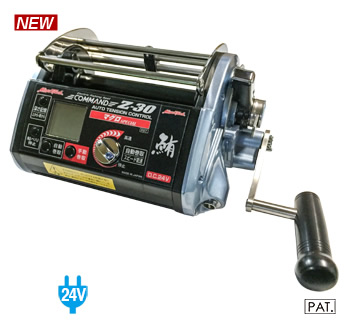 A big electric-powered reel dedicated to tuna newly appears with power-up! !
Big electric reel "Command Z-20 (24V) TUNA SPECIAL" for exclusive use of tuna fishing which gained high evaluation last year with start of marketing, from professional tuna fishermen as well as general users. Newly appeared "Command Z-30 (24V) TUNA SPECIAL" which improved thread winding amount and winding up force while taking over the basic performance of Command Z-20. It boasts a thread winding amount of 900 m in PE Line #30, and it is also possible to to carry out a bargain and response with a margin to a 400 kg class blue fin tuna (= an alternate name for Ushishibi). Of course, in addition to the newly developed "carbon drag lining" that keeps responding smoothly to fighting for a long time, "special grease" & "stainless steel reduction gear" are adopted. It is a specification that you can use with confidence in the big fight of a rare opportunity. Since this is a specification that emphasizes the drag performance and smoothness, it is unsuitable for fishing/target that require drag tolerance. Guard arm sold separately (Yen 7,000). Convenient specification of gear ratio 1: 2.5 for take-up winding when taking in.


●Big fishing such as 400 kg class blue fin tuna and yellow fin tuna

Item
CZ-30 TUNA SPECIAL
Power Source
DC-24V
Product Code
04238
Line Capacity
When use NEW DEEP SENSOR(PE)
PE Line #20-1,200m
PE Line #30-900m
Drag Capacity
40Kg-110kg
MAX.Drag Winding Power
120kg
MAX.Drag Winding Speed (No load)
120M/min.
Manual winding gear ratio
1:2.50
Yen 467,000.-
* This specification may be changed for improvement without notice.