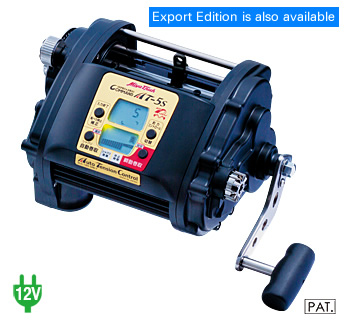 High power reel with hoisting power control function.
This product has further evolved from AT-3S. The black body having increase in amount of pincushion/hoisting force/ drag force and so tells the evolution. Moreover, we promise reliable winding by installing fishing force control function.

【About Export Edition】
The Export Edition is for export only.
The nameplate and instruction manual are in English.


Target fish (Target fishing)
●Kimmedai (red bream)/Akodai (red rock fish) fishing
●Bluish-skinned fish fishing such as Buri (yellow tail)/Hiramasa (yellow tail amber jack) etc.
●Light Oyogasetsuri (bait-fishing) (Kanpachi (greater amber jack) )
●Light deep sea fishing (Kimmedai (red bream)/Kuromutsu (Black Japanese bluefish)/Akamutsu (black-throat seaperch)/Medai (Japanese butter fish)

Item
AT-5S
Power Source
DC-12V
Product Code
02722
Line Capacity
When use NEW DEEP SENSOR(PE)
PE LINE #5-1,100m
PE LINE #6-900m
PE LINE #8-700m
PE LINE #10-500m
PE LINE #12-400m
PE LINE #15-300m
PE LINE #20-200m
maximum number of weights for a sinker
#350
Drag Capacity
20.0kg-40.0kg
MAX.Drag Winding Power
64kg
Sustained winding up force
20kg
MAX.Drag Winding Speed (No load)
150M/min.
Manual winding gear ratio
1:1.92
Power consumption
2.6-15A
Operating temperature
-10℃-80℃
Backlash prevention method
-
Ball bearing
10 pieces
Weight
2.3kg
Functions
Hoisting force control
Stop at the bulwarks
Slow start・Slow stop
Stemless speed change
Danbiki-shakuri (Sink-and-draw motion for gradual bites)
Safety mechanism
+/- Reverse connection prevention、Overload stop control
Accessories
Handle、Power cord
Reel size (W×H×D mm)
250×150×120mm
List Price
Contact us for pricing
* This specification may be changed for improvement without notice.