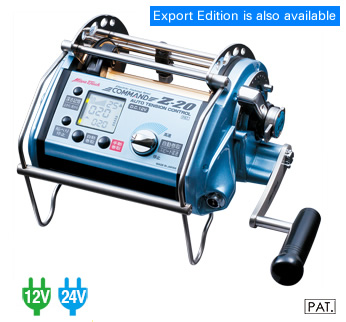 A new fishing power control function and a maximum 115 kg high power motor are installed!>
In favor of the power motor with maximum hoisting speed of 120 m/min. and instantaneous maximum hoisting force of 115kg (24V), you can afford to carry out a bargain and response to a big game. Moreover, in addition to automatically controlling hoisting force and speed by computer in response to fish pulls, we also installed a new fishing power control mechanism that realizes long life of the motor without wastefully passing electric current. Furthermore, the new drag liner using the clutch board lining which can finely control a bargain and response to a big game, and the click type sound brake system which confirms by the click sound even with a big game has also greatly improved the durability.Switches with click feeling and power handles are also equipped as standard.

【About Export Edition】
The Export Edition is for export only.
The nameplate and instruction manual are in English.
This model has an additional jigging function.

Target fish (Target fishing)
●200 kg class blue fin tuna fishing
●Big Kanpachi (greater amber jack) fishing in Tokara Islands
●Trolling in offshore of Kushimoto/Daiosaki/Shimoda
●Kimmedai (red bream)/Akodai (red rock fish) fishing around Izu Peninsula/Niijima island/Kozushima island

Part number
CZ-20
Power supply
DC-12V
DC-24V
JAN (Japan Article Number) code (last 5 digits)
04115
04122
Line winding volume
(No.-m)
NEW Deep sensor
PE Line #10-2,000m
PE Line #12-1,600m
PE Line #15-1,200m
PE Line #20-1,000m
PE Line #30-700m
Drag Capacity
40kg-110kg
Max Hoisting/ Winding power
110kg
115kg
Sustained winding up force
50kg
60kg
Maximum hoisting speed/when without load
110M/min
120m/min.
Manual winding gear ratio
1:2.50
Power consumption
1,4~23A
0.9A-12A
Operating temperature
-10℃-80℃
Backlash prevention method
Sound brake
Ball bearing
10 pieces
Reel self-weight
5.9kg
Electronic control
New hoisting force control
Stop at the bulwarks、Depth memory
Slow start・Slow stop
Stemless speed change(Pause/Minimum speed-Maximum speed)
Safety mechanism
+/- Reverse connection prevention、Overload stop control
Battery voltage drop detection、Over-voltage detection
Accessories
Power cord, Cord for series connection (24V only)
Reel size (W×H×D mm)
260×150×220mm
Manufacturer's list price of the body
Contact us for pricing
Contact us for pricing
* This specification may be changed for improvement without notice.