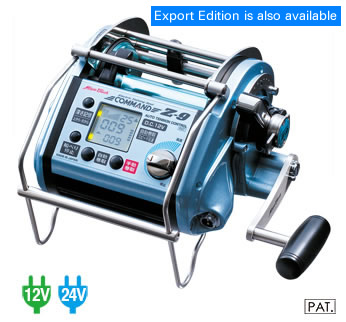 Newest product CZ-9 equipped with new fishing power control as new drag liner appears.
With the installation of drag (clutch plate lining and slip ring) which is highly evaluated in the command series Z, and the new shape spool which prevents water immersion of drag from the outside, fine adjustment is possible even for long time the bargain and response with the fish. The reel automatically controls the motor even at a high load during the time of big game hit and multi point hooking, and it also automatically adjusts the rotation of the motor and reduces the burden on the battery because it does not wastefully flow the current to realize the long life of the motor.
◎You can arbitrarily set the speed when winding the thread a little bit
◎Click sound brake system (Backlash prevention)
◎Striking toward two (2) points
◎ Assist lever/Power handle/Guard arm/Switch button with click feeling are also equipped as standard
◎The body is metallic sky blue paint with luxury feeling

【About Export Edition】
The Export Edition is for export only.
The nameplate and instruction manual are in English.
This model has an additional jigging function.



Target fish (Target fishing)
●Kimmedai (red bream)/Akodai (red rock fish)/Kanpachi (greater amber jack)
●Hiramasa (yellow tail amber jack)/Kihidamaguro (yellow fin tuna)/Moroko (willow gudgeon)
●Ishinagi (Striped jewfish)/Kannagi (matured epinephelus septemfasciatus)

Part number
CZ-9
Power supply
DC-12V
DC-24V
JAN (Japan Article Number) code (last 5 digits)
04313
04320
Line winding volume
(No.-m)
NEW Deep sensor
PE LINE #10-1,600m
PE LINE #12-1,400m
PE LINE #15-900m
PE LINE #20-800m
PE LINE #30-500m
Drag tolerance
40Kg-110kg
Instant maximum hoisting force
75kg
110kg
Sustained winding up force
40kg
50kg
Maximum hoisting speed/when without load
110M/min
120M/min.
Manufacturer's list price of the body
Contact us for pricing
Contact us for pricing
* There is also an Export Edition.
* The price indicates the manufacturer's list price only but does not include consumption tax.
* This specification may be changed for improvement without notice.