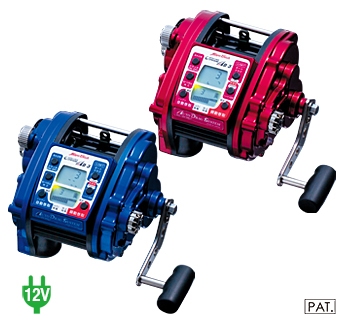 The world's first electric fishing reel mounting auto drag function is finally born!
Fishing is possible with AD-3 only by button operation. The instant maximum hoisting force of 43kg is enough power for bluish-skinned fish fishing By sub motor installation, subtle drag adjustment and clutch ON/OFF are made possible with switch operation. Drag is effective even if a big game hits in the stop state of the shelf with the Shakuri (sink-and-draw motion) function which can be set arbitrarily. Equipped with a multi-plate drag system that can also adjust fishing power control function and electric drag fine adjustment of electric reel to adjust winding up.




●Bluish-skinned fish fishing such as Buri (yellow tail)/Hiramasa (yellow tail amber jack) etc.
●Light Oyogasetsuri (bait-fishing) (Kanpachi (greater amber jack)/Moroko (willow gudgeon) /)
●Kensakiika (sword last cuttlefish)/Yariika (spear squid) /Surumeika (Japanese common squids) fishing
●Deep sea fishing such as Onikasago (scorpion fish)/Okoze (stone fish)
●Okimebaru (sebastes thompsoniare)/Tara (codfish) fishing in Japan Sea Side

Part number
AD-3 (R)
AD-3 (B)
Power supply
DC-12V
Body color
Metallic
Ruby red
Metallic
Garter blue
JAN (Japan Article Number) code (last 5 digits)
02500
02517
Line winding volume
(No.-m)
NEW Deep sensor
PE LINE #4-700m
PE LINE #5-600m
PE LINE #6-500m
PE LINE #8-400m
PE LINE #10-300m
PE LINE #12-200m

Maximum load of omission
300号
Drag tolerance
20-30kg
Instant maximum hoisting force
43kg(421.7N)
Sustained winding up force
16kg
Hoisting speed/th>
10-150m/分
Manual winding gear ratio
1:1.92
Power consumption
2.6-15.0A
Ball bearing
10 pieces
Reel self-weight
2.1kg
Electronic control
Auto drag function、Hoisting force control
High speed automatic winding, Shakuri (sink-and-draw motion) arbitrary setting
Stop at the bulwarks、Depth memory
Slow start・Slow stop
Stemless speed change
Safety mechanism
+/- Reverse connection prevention、Overload stop control
Accessories
Handle、Power cord
Reel size (W×H×D mm)
215×150×120mm
Manufacturer's list price of the body
Yen 117,000.-
* The price indicates the manufacturer's list price only but does not include consumption tax.
* This specification may be changed for improvement without notice.