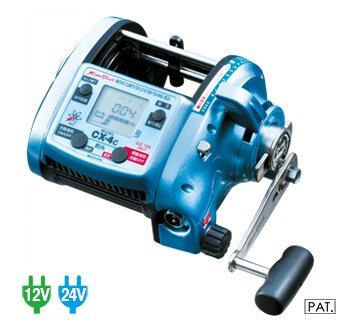 Ideal for beginners in deep sea light terminal tackle fishing! Drag assist lever is equipped as standard.
Automatic bulwark function to automatically memorize the point at which the thread is dropped. 24 volts to demonstrate the power to wind up vigorously. A model adopting a big-sized guide holder.


●Kimmedai (red bream)/Akodai (red rock fish) fishing
●Bluish-skinned fish fishing such as Buri (yellow tail)/Hiramasa (yellow tail amber jack) etc.
●Tara (codfish)/Kuromutsu (Black Japanese bluefish) fishing

Part number
CX-4C
Power supply
DC-12V
DC-24V
JAN (Japan Article Number) code (last 5 digits)
02913
02937
Line winding volume
(No.-m)
NEW Deep sensor
(下巻きアダプター使用時)
PE LINE #5-1,200(600)m
PE LINE #6-1,000(500)m
PE LINE #8-800(350)m
PE LINE #10-600(250)m
PE LINE #12-500(200)m
PE LINE #15-300(150)m
Maximum load of omission
#250
#350
Drag tolerance
20kg-28.8kg
Instant maximum hoisting force
25kg
35kg
Sustained winding up force
13kg
20kg
Maximum hoisting speed/when without load
110M/min
170M/min
Manual winding gear ratio
1:3
Power consumption
2.2~16A
0.8A-13A
Operating temperature
-10℃-80℃
Backlash prevention method
Sound brake
Ball bearing
7 pieces
Reel self-weight
1.8kg
Electronic control
Stop at the bulwarks、Depth memory
Slow start・Slow stop
Stemless speed change(Pause/Minimum speed-Maximum speed)

Safety mechanism
+/- Reverse connection prevention、Overload stop control
Battery voltage drop detection、Over-voltage detection
Accessories
Power cord, Cord for series connection (24V only)
Reel size (W×H×D mm)
175×100×155mm
Manufacturer's list price of the body
Yen 91,000.-
Yen 107,000.-
* The price indicates the manufacturer's list price only but does not include consumption tax.
* This specification may be changed for improvement without notice.