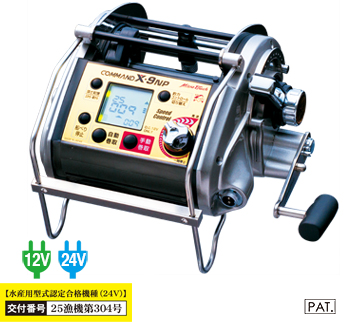 High power, instantaneous maximum hoisting force 75 kg (increased by about 30% compared with CX-9 SP)
It is an electric reel of professional specification boasting an instantaneous maximum winding force of 75 kg. Deep sea fishing/big fishing standard reel CX-9SP has further improved power. It can make fine adjustment of the drag with stainless steel slip ring and non grill scratch plate specifications because it is equipped with fishing power control function.
Liquid crystal screen display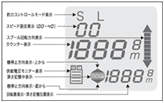 ●Big size Torokinme (red bream)/Beniakoudai (red rock fish) fishing
●Ishinagi (striped jewfish)/Moroko (willow gudgeon)/Kanpachi (greater amber jack) fishing
●Big size Aburabouzu (Skilfish) fishing
●Kimmedai (red bream)/Akodai (red rock fish) fishing around Izu Peninsula/Niijima island/Kozushima island
●Buri (Yellow tail)/Kuromutsu (Black Japanese bluefish)/Umeiro (Yellow tail blue snapper) fishing at the offshore of Cape Ashizuri

Part number
CX-9NP
Power supply
DC-12V
DC-24V
JAN (Japan Article Number) code (last 5 digits)
01732
01749
Line winding volume
(No.-m)
NEW Deep sensor
PE LINE #10-1,600m
PE LINE #12-1,400m
PE LINE #15-900m
PE LINE #20-800m
ナイロン糸
PE Line #20:-1,000m
PE LINE #24-800m
PE LINE #30-650m
Maximum load of omission
#600
Drag tolerance
25kg-47.8kg
Instant maximum hoisting force
75kg
110kg
Sustained winding up force
32kg
40kg
Maximum hoisting speed/when without load
120M/min.
Manual winding gear ratio
1:3.18
Power consumption
1.4-23A
0.9A-12A
Operating temperature
-10℃-80℃
Backlash prevention method
Sound brake
Ball bearing
11 pieces
Reel self-weight
4.8kg
Electronic control
New hoisting force control
Stop at the bulwarks、Depth memory
Slow start・Slow stop
Stemless speed change(Pause/Minimum speed-Maximum speed)

Safety mechanism
+/- Reverse connection prevention、Overload stop control
Battery voltage drop detection、Over-voltage detection
Accessories
Power cord, Cord for series connection (24V only)
Reel size (W×H×D mm)
260×150×220mm
Manufacturer's list price of the body
Yen 267,000.-
Yen 275,000.-
* The price indicates the manufacturer's list price only but does not include consumption tax.
* This specification may be changed for improvement without notice.