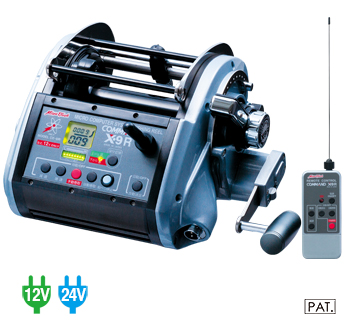 When attracting a fish, operation is possible with the remote control at hand, it is very convenient.
When the cordless remote control system is attracting a fish, operation is possible with the remote control at hand, it is very convenient. In addition, for a pole-and-line professional fisherman, it is possible to operate two or more reels with one ship while maneuvering the ship. It is also perfect for winding the thread a little bit when delivering the line with aiming for catch-up and feed of Kimededai (red bream) and Okimebaru (sebastes thompsoniare). It corresponds with remote control for careful sokotori (depth confirming), sasoi (attracting), and shakuri (sink-and-draw) actions. Easy winding-up for catch-up and feed of terminal tackle with a blade (Doutsukishikake).

●Kimmedai (red bream)/Akodai (red rock fish) fishing from Omaezaki to Izu Peninsula offshore
●Okimebaru (sebastes thompsoniare)/Tara (codfish) fishing in the Tohoku Region Japan Sea Side
●Omutsu (Big Japanese bluefish)/Oara (Big saw-edged perch)/Odara (Big Pacific cod)/Aburabouzu (Skilfish) fishing

Part number
CX-9R
Power supply
DC-12V
DC-24V
JAN (Japan Article Number) code (last 5 digits)
01633
01640
Line winding volume
(No.-m)NEW Deep sensor
PE LINE #10-1,600m
PE LINE #12-1,400m
PE LINE #15-900m
PE LINE #20-800m
Nylon thread
PE Line #20-1,000m
PE LINE #24-800m
PE LINE #30-650m
Maximum load of omission
#450
Drag tolerance
25.0kg-47.8kg
Instant maximum hoisting force
50kg
70kg
Sustained winding up force
30kg
35kg
Maximum hoisting speed/when without load
140M/min.
85M/min.
Manual winding gear ratio
1:3.18
Power consumption
1.4~20A
0.6-10A
Operating temperature
-10℃-80℃
Backlash prevention method
Sound brake
Ball bearing
11 pieces
Reel self-weight
4.2kg
Electronic control
Automatic delivery
Stop at the bulwarks、Depth memory
Slow start・Slow stop
Stemless speed change
Safety mechanism
+/- Reverse connection prevention、Overload stop control

Accessories
Remote control transmitter、Power cord
Cord for series connection (24V only)
Reel size (W×H×D mm)
240×150×220mm
Manufacturer's list price of the body
Yen 260,000.-
Yen 295,000.-
* The price indicates the manufacturer's list price only but does not include consumption tax.
* This specification may be changed for improvement without notice.