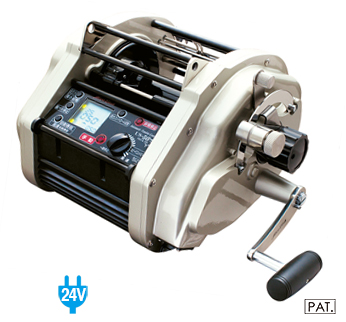 A masterpiece of an electric reel that condensed many years of know-how into a clear-cut and fearless body.
Located at the top peak of high power for such as 300kg class tuna fishing. A masterpiece of an electric reel that condensed many years of know-how into a clear-cut and fearless body. The W clutch system which can respond to whatever big games, with the fishing power control function, and can turn on and off the clutch while keeping the drag set once. The one-touch free level line mechanism will eliminate the level line trouble at the time of the flat-out running of the tuna. Also high speed automatic winding function is realized. It can be used for trolling if you install the US-50 dedicated roller (optional) and set it to Maximum X.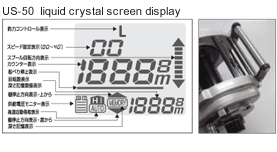 ●Blue fin tuna fishing at the Tsugaru Strait/Tsushima Strait
●Blue fin tuna fishing at the Yamaguchi Prefecture, Yachigase
●Ushishibi (300kg class blue fin tuna) fishing in Okinawa Prefecture
●Kan-nagi (matured seven band grouper) fishing at Yonagunijima Island
●Extra big migratory fishing/deep sea fishing

Part number
US-50 PRO&AM
Power supply
DC-24V
JAN (Japan Article Number) code (last 5 digits)
01800
Line winding volume
(No.-m)
NEW Deep sensor
PE LINE #20-1,600m
PE LINE #30-1,300m
Nylon thread
PE LINE #60-800m
Drag tolerance
34.0kg-80.0kg
Instant maximum hoisting force
130kg
Sustained winding up force
75kg
Maximum hoisting speed/when without load
110M/min
Manual winding gear ratio
1:2.66
Power consumption
0.7-18A
Operating temperature
-10℃-80℃
Backlash prevention method
Sound brake
Ball bearing
17 pieces
Reel self-weight
15kg
Electronic control
Hoisting force control
Double clutch system
New mechanism level line
High speed automatic winding, Emergency stop control
Stop at the bulwarks、Depth memory
Slow start・Slow stop
Stemless speed change(Pause・Extremely low speed~Maximum speed)

Safety mechanism
+/- Reverse connection prevention、Overload stop control
Accessories
Aluminum case、Power cord
Cord for series connection
Reel size (W×H×D mm)
402×278×306mm
Manufacturer's list price of the body
Yen 752,000.-
* The price indicates the manufacturer's list price only but does not include consumption tax.
* This specification may be changed for improvement without notice.